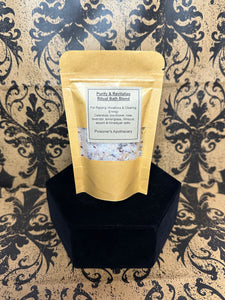 Purify and Revitalize Ritual Bath Blend
For raising vibrations and clearing energy.
Calendula, Cornflower, Rose, Lavender, Lemongrass, Hibiscus, Epsom, and Himalayan salts
This information is for educational purposes only and is not intended as medical advice.  StellaLunaLLC and Coby Michael & Poisoner's Apothecary are not responsible for misuse of this product. These statements have not been approved by the FDA, and per their requirement, this product is not intended for human consumption.