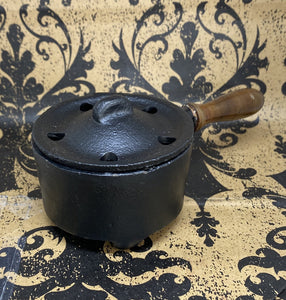 Sm Cast Iron Incense Pot With Lid And Wood Handle
A StellaLuna Staff Favorite!
This cast iron pot with wood handle makes carrying burning incense safer and more efficient.  Easily portable from one room to another or when smudging a large area or group of people.  Fill with sand and place charcoal disc on top for use, cover with lid to help extinguish disc when finished. 
Although the wood handle will remain safe to touch, the pot itself will get very hot - do not place on surfaces that can be damaged by heat.  We recommend resting the pot on our wooden plate  after use to help protect surfaces.