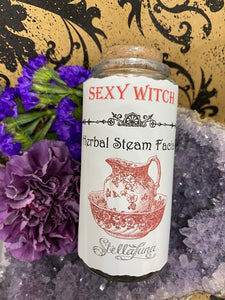 Sexy Witch Herbal Facial Steam
Sexy Witch ~ a StellaLuna Exclusive line ~ blends botanical beauty with magick!
A proprietary recipe of soothing and skin softening herbs, kissed with the finest essential oils designed to release their beauty secrets in steam.  
To use: place two tablespoons of Sexy Witch Herbal Steam Facial into basin or large bowl; gently pour 1-2 cups of nearly boiling water over mixture; position your freshly cleansed face over bowl close enough to moisten face with steam; option to cover face with towel for best results.  Relax and enjoy for 10-15 minutes; pat face dry and follow with your favorite moisturizer*!  GLOW 
 *Try our Sexy Witch Facial Oil for Normal to Dry or Normal to Oily Skin types! 
3.5oz jar