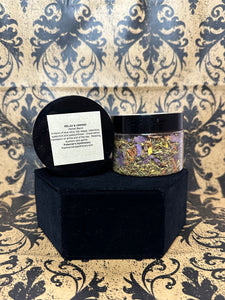 Relax and Unwind Blend
Herbal Smoking/Tea Blend
For relaxation, sleep and stress relief used in conjunction with meditation, breath or body work.
Contains: Blue Lotus, Klip Dagga, Spearmint and Passion Flower
This information is for educational purposes only and is not intended as medical advice.  StellaLunaLLC and Coby Michael & Poisoner's Apothecary are not responsible for misuse of this product. These statements have not been approved by the FDA, and per their requirement, this product is not intended for human consumption.