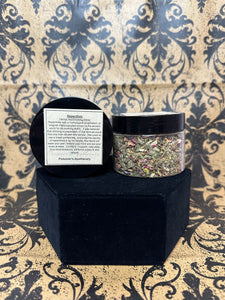 Nepenthes' Blend
Herbal Smoking/Tea Blend
Nepenthes was a mythological pharmakon, or magical-medicine plant known in the ancient world for its soothing ability.  It was believed that drinking a preparation of this formula would free one from all pain and sorrow.  We could all use a break sometimes, and while the identity of nepenthes is up for debate, this blend will ease your pain, soothe your mind, and put your woes at ease.  
Contains: Mugwort, Rose Petals, Blue Lotus Blossoms, California Poppy, and Wild Lettuce

This information is for educational purposes only and is not intended as medical advice.  StellaLunaLLC and Coby Michael & Poisoner's Apothecary are not responsible for misuse of this product. These statements have not been approved by the FDA, and per their requirement, this product is not intended for human consumption.