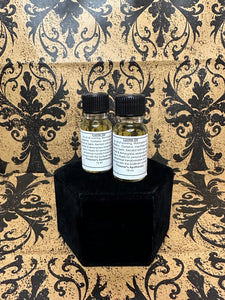 Lucifer Ritual Oil
These oils are blended by hand and charged upon the appropriate sigils. They contain essential oils, herbs and powders.
Lucifer: a mercurial blend of lemongrass, fennel, bay, and promethean mandrake. For summoning the spirits of air. Magic involving illumination, rebellion, groundbreaking workings, overcoming oppression and occult power.
This information is for educational purposes only and is not intended as medical advice.  StellaLunaLLC and Coby Michael & Poisoner's Apothecary are not responsible for misuse of this product. These statements have not been approved by the FDA, and per their requirement, this product is not intended for human consumption.