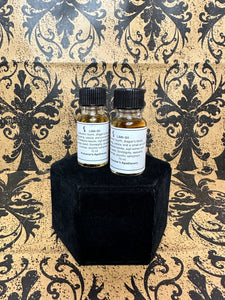 Lilith Ritual Oil
Grape seed oil infused with myrrh, dragon's blood, ylang-ylang, cassia; and a small amount of hellebore leaves and poppy seed. Use as a personal anointing oil or for ritual objects. Used to evoke the spirit of Lilith, Lylit Malkah ha Shedim and her legion of children.
Keywords:
Personal sovereignty
Sexual empowerment
Sending dreams/hag riding
Breaking bonds
Succubi
Psychic Vampirism
This information is for educational purposes only and is not intended as medical advice.  StellaLunaLLC and Coby Michael & Poisoner's Apothecary are not responsible for misuse of this product. These statements have not been approved by the FDA, and per their requirement, this product is not intended for human consumption.