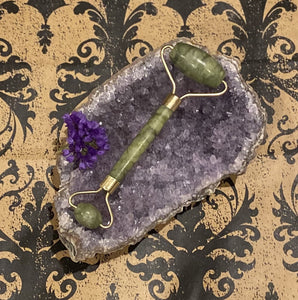 Facial Roller Jade
Jade is a very strong mineral.  Its crystal structure is made up of interlocking fibers that closely resemble muscle tissue at a microscopic level. It has been highly esteemed in China for centuries, believed to promote longevity and abundance.  
Use of a facial roller is said to improve ones appearance by reducing puffiness, increasing lymphatic drainage and even improve mood by promoting relaxation.  
To use: 
Moisturize face - Try using our Sexy Witch Facial Oil for Normal to Dry or Normal to Oily Skin types
Using the large end, roll in upward strokes, beginning at the jaw toward the cheek bone. From cheek bone roll backward toward face, then horizontally over brow bone.  
Use the smaller end to sweep the under eye area from nose outward 
Apply enough pressure that you feel the crystal rolling over your face without friction or pain.  It should feel like a gentle massage. 
Repeat this process 4-5 times once daily or as often as desired.  
Clean roller with warm soapy water, rinse and dry completely.