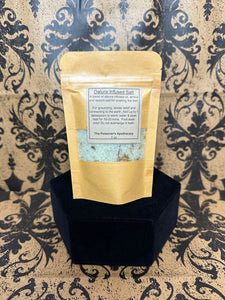 Datura Infused Foot Soak
A blend of Datura infused oil, Arnica, and Epsom salt for soaking the feet.  
For grounding, stress relief, and connecting to the earth.  Add up to 1 tablespoon to warm water and soak feet for 15-20 minutes.  Foot soak only!!  Do not submerge in bath.
This information is for educational purposes only and is not intended as medical advice.  StellaLunaLLC and Coby Michael & Poisoner's Apothecary are not responsible for misuse of this product. These statements have not been approved by the FDA, and per their requirement, this product is not intended for human consumption.