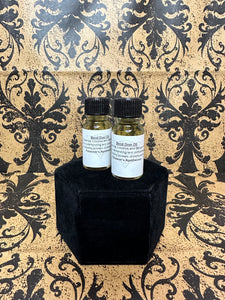 Bend Over Oil
 An oil of commanding, influence and domination to get the upper hand in a situation. This is an oil of mastery and subjugation to bend people and situations to one's will.  Contains calamus, licorice root, and bergamot.
It has a musky smell that is strangely attractive to many people. Commanding formulas can be used in rituals of self-empowerment and to take back control of one's life.
This information is for educational purposes only and is not intended as medical advice.  StellaLunaLLC and Coby Michael & Poisoner's Apothecary are not responsible for misuse of this product. These statements have not been approved by the FDA, and per their requirement, this product is not intended for human consumption.