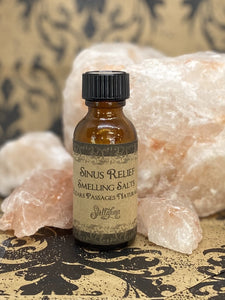 Smelling Salts Sinus Relief
Aromatherapy and the use of scent to bring about a desired result has been around since ancient times.  So why salt?  The Himalayan salts used in these 1oz bottles are doing double duty.  Not only do they provide a medium to help retain the botanical bouquet of the essential oils and minimize accidental spillage, they are also said to be beneficial to the respiratory system.  According to the Lung Institute, salt is antibacterial & anti-inflammatory, loosens excessive mucus, removes pathogens in the air like pollen, and decreases immune system oversensitivity.  
This Sinus Relief blend combines the benefits of salt, menthol crystals and a proprietary blend of essential oils known to help clear congestion in nasal passages.   
These salts are not to be ingested; if you are using them in an uncovered form, please be sure they are not accessible by children and/or pets. Please keep all smelling salts out of the reach of children and pets.
Not intended for treatment of medical issues nor to revive someone who is unconscious.  
Sold by the each  
This website does not provide medical advice. It is intended for informational purposes only. It is not a substitute for professional medical advice, diagnosis or treatment. Never ignore professional medical advice in seeking treatment because of something you have read on this site. If you think you may have a medical emergency, immediately call your doctor or dial 911.