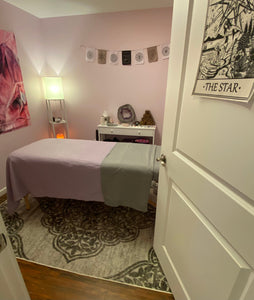 Crystal Healing Session in the Star Room
Crystal Healing Session with Lauren Josenhans ACM ACP RM CRM
Crystal Healing is a complimentary modality that promotes well-being by placing crystals on and around the body.  The energetic shifts created during a session assist in bringing the physical body into a more balanced state by aligning one's energy centers.  
Sessions are tailored to each individual's needs and goals, assessed at the initial visit.
45 Minute Sessions include but are not limited to:
BASIC CHAKRA SESSION  
Excellent for Crystal Healing introductions, this Session evaluates and works with crystals to balance the energies of your basic seven chakra centers.
HEART OPENER SESSION
In this Session, special attention is paid to those areas that may be holding you back from being able to give and receive Love.
GROUNDING SESSION
Perfect for those who feel scattered and unable to concentrate.  If caffeine has been your fuel lately, this session will help slow things down a bit and create some focus so you can start to feel more like yourself again. 
60 Minute Sessions include but are not limited to:
EMF BLOCKER SESSION
Ideal for those who spend a majority of their time in front of a computer or on their cell. In this session, crystals work to strengthen your resistance to the constant bombardment of Electro-Magnetic Frequencies.
STRESS BUSTER SESSION
For those whose every day stress has become overwhelming.  This Session will help to smooth & soothe your frayed nerves, and help to loosen the energetic knots keeping you from enjoying life!
CHRONIC SESSION
Designed for those who have been diagnosed with a chronic condition.  This intensive Session will work with both Reiki and crystals for assistance related to Your specific circumstance.
Add-On Services Booked with a Session can include:
ESSENTIAL OIL DIFFUSION
MINI-REIKI
ORACLE CARD READING
SINGING BOWL ENERGY CLEARING
CORD CUTTING
TARGETED CRYSTAL BODY LAYOUTS 
**Add-On Services  should  be  added  to the  cart  separately  after  requesting  a   45 minute, 60 minute or Chronic Session. 
Energy Healing is a wonderful addition to your Self-Care routine and compliment to any healthcare protocols established with your doctor.  It is not intended to diagnose, treat or replace conventional medicine. Energy Healing should only be used with the understanding that it is not an independent therapy, but one that is a part of a holistic healing approach.  

Lauren is certified as an Advanced Crystal Master from the accredited Hibiscus Moon Crystal Academy. She also received her Advanced Crystal Practitioner certification from the Love & Light School of Crystal Therapy. 
Lauren received her Reiki Master Certification with Keiko Broyles of Willows Healing Path LLC.  She also received her Crystal Reiki Master Certification from the Love & Light School of Crystal Therapy.
By Connecticut state laws it must be stated that Lauren is not a licenced medical professional and does not provide allopathic care or treatment.