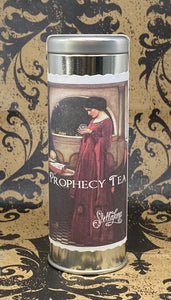 Prophecy Tea
Witchcrafted with a blend of herbs, fruit, seed and bark all known to gently open the psychic senses and improve the clarity of messages received. Indulge in a cup before reading tarot or oracle cards, scrying, using a pendulum or any other preferred form of divination.  One of our favorite ways to enjoy this brew is using it before and during tasseomancy with a fortune telling tea cup like the ones we sell in our Magickal Tools collection!
Add some extra witchy charm steeping this loose blend with our magickal tea ball!  
Not intended to diagnose, cure, treat any disease or replace conventional medical advice.  Please consult your physician before use if you have any underlying conditions or are taking any medications.  Not recommended for pregnant or breast feeding moms.  
Ingredients: Eschscholzia, Cinnamon, Pimpinella Anisum, Mentha Piperita, Orange Peel, Stevia