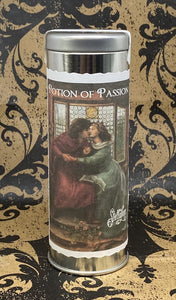 Potion of Passion Tea
Liquid ecstasy awaits.....This brew is a carefully curated blend of herbal aphrodisiacs to stimulate the senses and prolong intimacy.  Use alone or with a partner to enhance arousal and expand pleasure for an experience unlike any other.  

Add some extra witchy charm steeping this loose blend with our magickal tea ball!  
These statements have not been evaluated by the FDA. Not intended to diagnose, cure, treat any disease or replace conventional medical advice.  Please consult your physician before use if you have any underlying conditions or are taking any medications.  Not recommended for pregnant or breast feeding moms.  
Ingredients: Epimedium, Turnera Diffusa, Hibiscus, Rose Petals, Rose Hip, Cacao Bean, Goji Berry.