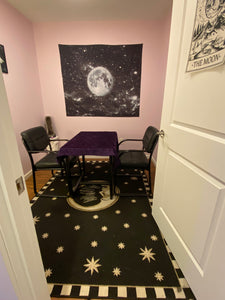 Hourly Moon Room Rental
Readers - book this room by the hour!  Let us coordinate and promote your personal divination reading style here at StellaLuna.  Tarot, Oracle, Rune, Bone, Psychic Medium, Palm Readings - no matter your style or preference, we want to give you the space to share your gifts with clients!
Our Room Rate is set by the hour, with no additional fees, so you are free to set your own time and cost schedule for readings. All client payments are managed with the reader directly.   
To Rent: Schedule your time and select an available Date from the calendar. Add each hour you would like to book to your cart and check out. We kindly request a minimum of two hours.  There is a six hour maximum per day, and booking dates may be limited in the essence of equality.  
Please contact the shop for additional details and approval prior to booking.
NOTE YOUR TIME SLOT WILL NOT BE RESERVED WITHOUT PRIOR APPROVAL.